OTC's Offshore Drilling Regulatory Compliance training is a five-day (35 hour) course accredited by IADC. This course is intended for all drilling personnel with regulatory compliance responsibilities including Drilling Engineers and Superintendents, Company Men, HSE Managers, OIM's, Rig Managers, Tool Pushers, Subsea Engineers, Drillers and Maintenance staff.
OTC expects that participants who attend the course would be able to identify and explain potential regulatory and compliance related deficiencies. The overall objective of the course is to provide participants with knowledge and understanding of applicable offshore drilling regulatory compliance requirements as well as inspection methodology and skills.
The interactive course is instructor led via classroom and workshop style settings. Participants enrolled in the course are required to have prior oil and gas experience. Slideshows, handouts and actual case studies are utilized throughout the course to engage participants and complete the course with at least an 80% pass rate required by IADC.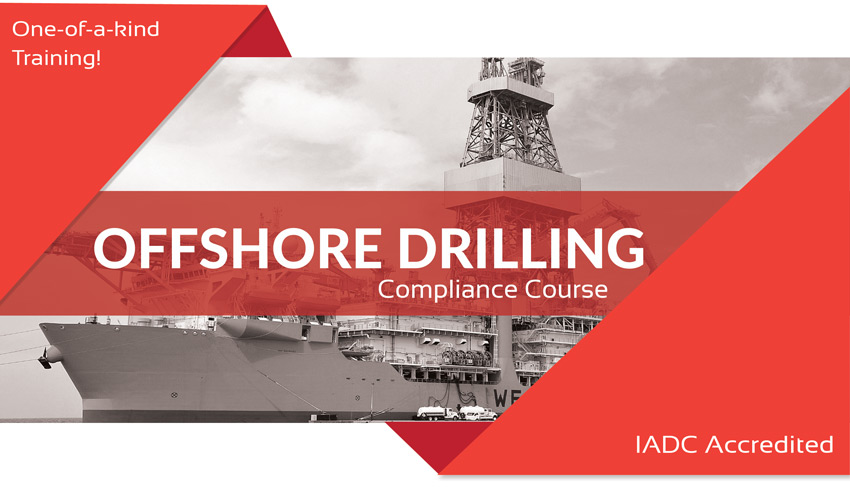 At the end of the course, each participate should be able to demonstrate the understanding of the content provided to them via the course objectives listed below:
Identify the systems and terminology related to offshore drilling operations
Identify the primary governmental agencies and their associated regulations pertaining to offshore drilling operations
Identify the secondary governmental agencies and their associated regulations pertaining to offshore drilling operations
Discuss the various BSEE regulations / PINC's identified by activity or topic
Locate, interpret, and apply regulatory requirements as identified by the Code of Federal regulations or similar regulatory documents
Describe the aspects necessary to prove compliance with a rule or regulation.
Classify systems having frequency-based testing requirements
Interpret frequency-based testing requirements
Discuss the requirements of Safety and Environmental Management System program
Drilling Regulatory Compliance Training
September Session – Houston, TX
September 14, 2020 – September 18, 2020
8:30 am – 5:00 pm