BSEE Drilling Rig Crew Competency Testing
BSEE has begun the practice of administering standardized competency testing of drilling rig crews on site in the Gulf of Mexico. The testing to date has been administered in locations where either the Operator reported well control events or BSEE inspector witnessed well control events or conversations with rig crew members. This resulted in a concern about the level of competency demonstrated by one or more crew members. It is our belief that this will become common practice by BSEE moving forward.
According to a statement issued by the OOC, The BSEE Region has been directed by the Director to step up rig crew competency evaluation and testing in the GOM. This effort must be addressed by Operators and Contractors through increased preparation and performance.
One way to ensure rig crews are better prepared for unannounced competency testing is for contractors and operators to make available the necessary tools to aid in test taking and to establish routine practice well control testing for all rig floor hands and supervisors. According to BSEE, tested personnel are allowed to access well control resources. So all rig locations would be well advised to build a library of resources available on site for all hands to reference.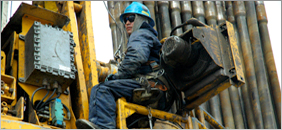 Drilling and Production Crew Compliance Training
OTC has developed and implemented an offshore training program focused on assisting operators and drilling contractors that will improve performance in safety, environment, and compliance. Our inspectors spend time with each member of the drilling/production team, maintenance personnel, electricians, and leadership on the facility to determine compliance knowledge and understanding. Our inspectors then provide one-on-one coaching with a focus on each crew member's specific role, job duties, and how those functions relate to compliance inspections. Offshore Technical Compliance's inspectors are trained, not only to identify safety, environmental, and compliance deficiencies, but are skilled at assessing the strengths and weaknesses of each crew member, and coaching them towards improving on those weaknesses or gaps.
Major operators and drilling contractors in the Gulf of Mexico, and internationally, are utilizing OTC's one-on-one coaching program and seeing results.
Recommended Resources:
Well Control Training Manuals (Supervisory and Non-Supervisory)
CFR 30 Subpart O
Well Control Killsheets
Volumetric and Lube & Bleed Killsheets
Mock Subpart O well control tests
Mathematical formulas most commonly used in well control calculations
Computer based tools (but not the internet)
The tests have been geared toward well control competencies expected of three categories of rig crew:
Well Site Leaders/OIM/Subsea Engineers
Drillers/Tool Pushers
Floor Hands/Derrickmen
(Mud Logger only if Operator's Subpart O plan requires this position to have well control training)
OTC's Competency Assessment and Training Program
Offshore Technical Compliance has considered competency training as it relates to BSEE and Operators in the GOM. Generally it is our opinion that a 3rd party comprehensive competency program must advance in three stages:
Assessment
Training
Practice Testing
Further, a structured program will work well for the reasonably stable and longer term platform and rig crews compared to short term crews engaged in well intervention work. And, although testing to date has focused only on drilling rig crews, it is our opinion that the testing will eventually include all personnel in the GOM involved in well control.. OTC can provide support to operators and contractors within this 3-phase approach.
Assessment: During this time, we would recommend arbitrary verbal and written testing of personnel in a non-threatening environment. Results would be filtered by the Competency Team strictly to determine areas of weakness or deficiency in knowledge and would be used to develop a training program that includes an emphasis on those areas.
Training: The objective of training is to impart knowledge and to practice skill sets required to excel in formal future testing by the Competency Team or Regulators. Training would be designed to have very low impact on crew performance by utilizing electronic training methods, live in person training in short doses, and as an adjunct to existing safety meetings.
Formal Testing: Formal testing will mimic testing performed by regulators. The purpose of formal testing is to improve and practice standardized test taking skills. Additionally, the results can be used in assessing personnel as a performance factor. The entire initiative can supplement personnel competency validation efforts by the operator and contractor as part of SEMS requirements. The Competency Team will also filter the results to continuously improve the training program.
OTC Competency Team
Our experienced Competency Team consists of 10 former BESE Inspectors and 2 Petroleum Engineers with extensive Operations and Federal Regulatory backgrounds. OTC is not only fully qualified to provide 3rd party competency assessment, training and testing, but also provides complete GOM Drilling, Well Intervention and Production Operations and Safety Systems Inspections. Our inspections assess Regulatory Inspection Readiness and further affirm crew competency. We can also observe and verify well control testing to ensure testing accuracy and confirm all documentation is complete and correct to avoid non compliances. OTC believes a 3rd party program is less threating to personnel, more efficient for operators and contractors, and takes advantage of our in depth and regulatory knowledge, experience and networks.