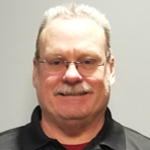 Karl Callegan
Pressure Testing & Compliance Specialist
Offshore Technical Compliance, Covington, LA
Responsible for field based installation, commissioning, operation of BSEE approved Greenlight Digital Pressure Testing software and related equipment. Responsible for training rig personnel on utilization of Greenlight and related programs including the "Blueprint" test planning and analysis tool and the "Leaflet" documentation tool. Current on API Standard 53 and related CFR to ensure BOP testing meets new well control rule requirements. Also fully trained and approved to administer remote support and monitoring through OTC's 24/7 Support Service Center.
QHSE Manager – Hercules Offshore
Responsible for implementation and management of QHSE systems, processes, policies and tools. Strategically planned and aligned activities across departments and work crews to drive implementation and compliance to the QHSE manual. Coached crews in Job Safety Analysis and behavioral processes. Assisted in incident investigation, verifying root cause, and recommending corrective actions.
Rig Manager (Compliance) – Hercules Offshore
Developed and managed a compliance team and a Share Point tracking system for regulatory compliance, maintenance and testing requirements to trend Incidents of Non Compliance. Developed a document center for rig well permitting process. Ensured compliance with 30 CFR 250 by inspecting all well control, life-saving and firefighting equipment.
Rig Manager – Hercules Offshore
Managed three drilling units. Responsible for maintaining the safety and efficiency of crews and operations. Developed and prepared annual budgets and assisted site assessment engineer with CAD drawings for prospective programs.
Tool Pusher – (R&B Falcon Corporation, Transocean Sedco Forex Corporation and TODCO)
Ensured that rig had all necessary tools, equipment, and supplies. Worked closely with the operating company during drilling. Coordinated services with third party companies related to the drilling of the well.
Driller – Atlantic Pacific Marine Corporation and Falcon Drilling Co., Inc
Managed crew of up to five hands responsible for drilling rigs machinery and the drilling process. Maintained control of well by monitoring drilling fluid, pump rates and volumes.