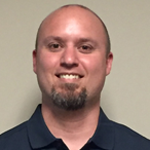 James Bethea
Pressure Testing & Compliance Specialist
Offshore Technical Compliance, Covington, LA
Responsible for field based installation, commissioning, operation of BSEE approved Greenlight Digital Pressure Testing software and related equipment. Responsible for training rig personnel on utilization of Greenlight and related programs including the "Blueprint" test planning and analysis tool and the "Leaflet" documentation tool. Current on API Standard 53 and related CFR to ensure BOP testing meets new well control rule requirements. Also fully trained and approved to administer remote support and monitoring through OTC's 24/7 Support Service Center.
Vice President – Transformyx, Inc
Worked as an Outside Sales Rep, eventually becoming Vice President of this Louisiana technology firm. Responsible for strategic planning, software specification, end user support, client support, and sales for small to medium-sized, to enterprise clients inside and outside of the energy sector. Continued to build technical, business management and leadership skills as the proprietor of a nationally recognized e-commerce business.
Roustabout – W&T Offshore, Inc.
Participated in drilling new wells as well as the installation of offshore production facilities on the W&T Offshore Delta.