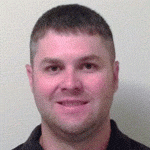 Evan Smith
Pressure Testing & Compliance Specialist
Offshore Technical Compliance, Covington, LA
Responsible for field based installation, commissioning, operation of BSEE approved Greenlight Digital Pressure Testing software and related equipment. Responsible for training rig personnel on utilization of Greenlight and related programs including the "Blueprint" test planning and analysis tool and the "Leaflet" documentation tool. Current on API Standard 53 and related CFR to ensure BOP testing meets new well control rule requirements. Also fully trained and approved to administer remote support and monitoring through OTC's 24/7 Support Service Center.
Cyber Driller – Diamond Offshore
Performed daily drilling operations from spud in to completion. Record and report daily IADC reports and performed all calculations needed pertaining to current operations. Directly supervised eight personnel for all operations and oversaw all preventive maintenance of drilling equipment. Recognize all well control situations and act accordingly in a timely manner. Responsible for all training and teaching safe work practices, company policies and day-to-day operations.
Assistant Cyber Driller – Diamond Offshore
Responsible for recording all measurements of BHA and tubulars. Assisted driller in all activities, including well control situations and drills. Operated column Hydra racking system, iron roughneck and fingerboard. Performed calculations pertaining to drilling operations, circulating operations and tripping operations.
Derrickman– Diamond Offshore
Responsible for overseeing all drilling fluid operations. Maintained mud pumps and related equipment, worked with well site fluid engineer on building and maintaining drilling fluid and assisted in rig floor operations.
Mudhand – Diamond Offshore
Maintained drilling fluids, assisted in maintaining mud pumps, recorded weight and viscosity of drilling fluids, and assisted in rig floor operations. Started with Diamond as Roustabout.