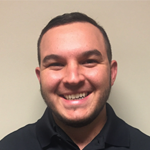 John Griffitt
Project Engineer
Petroleum Engineer responsible for BOP testing, trend analysis and BOP test design efficiency. Provides technical training and support to GreenLight technicians. Standard 53 expertise.
Pressure Testing & Compliance Specialist
Responsible for field based installation, commissioning, operation of BSEE approved Greenlight Digital Pressure Testing software and related equipment. Responsible for training rig personnel on utilization of Greenlight and related programs including the "Blueprint" test planning and analysis tool and the "Leaflet" documentation tool. Current on API Standard 53 and related CFR to ensure BOP testing meets new well control rule requirements. Also fully trained and approved to administer remote support and monitoring through OTC's 24/7 Support Service Center.
Shop Manager – Halliburton Energy Services
Managed all personnel in the shop. Oversaw day-to-day operations and ensured all equipment was organized and ready for customers.
Field Professional – Halliburton Energy Services
Held position with the Wireline & Perforating division in the slickline deepwater office. Worked with advanced tools and "combo" units and conducted operations as part of the well intervention and production enhancements.
Intern – Century Exploration
Started as a roustabout on a production platform in the Breton Sound. Assisted in field operations, flow rate adjustments, pig retrieval, crane work and maintenance.