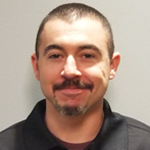 Zayn Makke
Pressure Testing & Compliance Specialist
Offshore Technical Compliance, Covington, LA
Responsible for field based installation, commissioning, operation of BSEE approved Greenlight Digital Pressure Testing software and related equipment. Responsible for training rig personnel on utilization of Greenlight and related programs including the "Blueprint" test planning and analysis tool and the "Leaflet" documentation tool. Current on API Standard 53 and related CFR to ensure BOP testing meets new well control rule requirements. Also fully trained and approved to administer remote support and monitoring through OTC's 24/7 Support Service Center.
Field Specialist III – Baker Hughes
Responsible for daily operation reports, field tickets for completed services, safety meetings/ JSA, and maintenance records for equipment. Communicated with direct coordinator on present field operations. Maintained running inventory of various chemical products for cementing operations. Conducted safety meetings involving cementing operations, with emphasis on policies and procedures. Coordinated and assigned tasks to personnel (both rig and BHI) involved in cementing operations. Responsible for routine maintenance of on-site equipment and troubleshooting of the cementing units. Operated and serviced the Seahawk cement unit.