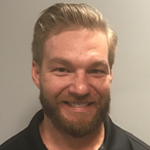 Robert Smith
Pressure Testing & Compliance Specialist
Offshore Technical Compliance, Covington, LA
Responsible for field based installation, commissioning, operation of BSEE approved Greenlight Digital Pressure Testing software and related equipment. Responsible for training rig personnel on utilization of Greenlight and related programs including the "Blueprint" test planning and analysis tool and the "Leaflet" documentation tool. Current on API Standard 53 and related CFR to ensure BOP testing meets new well control rule requirements. Also fully trained and approved to administer remote support and monitoring through OTC's 24/7 Support Service Center.
Field Advisor / Software Analyst
Planned, developed, and provided training, and staff development programs, using knowledge of the effectiveness of methods such as classroom training, demonstration and on-the-job training. Monitored, evaluated and recorded activities on program effectiveness. Trained users on new or modified equipment when updates were needed. Consulted with engineering staff to evaluate interface between hardware and software, developed specifications and performance requirements as well as resolving customer problems.
Louisiana Army National Guard
Commissioned and non-commissioned Officer in the Army National Guard. Military Officer while being a special and tactical operations leader. Participated in hurricane operations planning and execution. Developed curriculums and provided training, motivation while cultivating individuals to achieve peak performance in diverse settings ranging from the classroom to the battlefield.