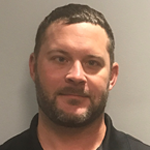 Matt Bindewald
Pressure Testing & Compliance Specialist
Offshore Technical Compliance, Covington, LA
Responsible for field based installation, commissioning, operation of BSEE approved Greenlight Digital Pressure Testing software and related equipment. Responsible for training rig personnel on utilization of Greenlight and related programs including the "Blueprint" test planning and analysis tool and the "Leaflet" documentation tool. Current on API Standard 53 and related CFR to ensure BOP testing meets new well control rule requirements. Also fully trained and approved to administer remote support and monitoring through OTC's 24/7 Support Service Center.
Superior Energy Services – Lifeboat Captain
Full charge of all vessel operations including deckhands, ensuring proper and safe operations of the vessel. Operated vessels in the jack-up and jack-down mode and while underway. Managed operation of the crane when loading and/or unloading of the vessel. Verified all equipment on the deck was positioned and properly secured. Ensured required training was current at all time.
Superior Energy Services – Wireline Operator
Coordinated well site plan with company representative, and studied well files on any previous intervention work. Tasks performed included cutting paraffin, making gauge runs, correlating depths, bottom hole pressures, safety valve inspection, gas lift work, swabbing gas well and fishing jobs.