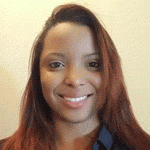 Eileen Metellus
Pressure Testing & Compliance Specialist
Offshore Technical Compliance, Covington, LA
Responsible for field based installation, commissioning, operation of BSEE approved Greenlight Digital Pressure Testing software and related equipment. Responsible for training rig personnel on utilization of Greenlight and related programs including the "Blueprint" test planning and analysis tool and the "Leaflet" documentation tool. Current on API Standard 53 and related CFR to ensure BOP testing meets new well control rule requirements. Also fully trained and approved to administer remote support and monitoring through OTC's 24/7 Support Service Center.
Deepwater Surface Data Logger – Halliburton USA
Collected, processed, logged then analyzed geological samples from high pressure, high temperature wellbores. Utilized specific laboratory techniques to indicate the accumulation of oil or gas. Interpreted wellbore information then communicated the observations to the drilling team. Collected then analyzed mud cuttings and fluid samples from the well. Manned real-time computer acquisition systems installed to monitor/record all parameters of rig operations. Operated alongside well-site geologists while executing coring operations. Maintained records of the received and outstanding requisitions, prepared cargo manifests.