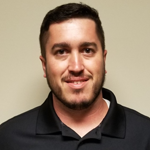 Brennon Carriere
Pressure Testing & Compliance Specialist
Offshore Technical Compliance, Covington, LA
Responsible for field based installation, commissioning, operation of BSEE approved Greenlight Digital Pressure Testing software and related equipment. Responsible for training rig personnel on utilization of Greenlight and related programs including the "Blueprint" test planning and analysis tool and the "Leaflet" documentation tool. Current on API Standard 53 and related CFR to ensure BOP testing meets new well control rule requirements. Also fully trained and approved to administer remote support and monitoring through OTC's 24/7 Support Service Center.
Bureau of Safety & Environmental Enforcement – Safety/Regulatory Inspector
Performed and enforced offshore regulatory compliance and conducted safety inspections in both the outer continental shelf and deepwater locations on jack-up rigs, semi-submersibles, drill ships, coil tubing units and platform rigs. Assisted with accident/incident investigations. Witnessed subsea BOP stack testing onboard numerous deep-water rigs. Witnessed both BOP stump testing and initial on-bottom BOP latch-up testing. Conducted safety meetings. Issued Incidents of Non-Compliance and submit Civil Penalty recommendations when applicable. Verified operations conducted as per APD and or APM. Enforced 30 CFR along with additional standard and recommended practices. Educated both operator and contractor on regulatory compliance matters. Contact person for any Potential Incidents of Non-Compliance issues for the New Orleans district Well Operations. Conducted pre-job inspections of facilities new to the Gulf of Mexico for compliance/safety hazards.
Woodgroup – Wireline Offshore Crewmember
Operated equipment to increase oil flow from producing wells or to remove stuck pipe, casing, tools, or other obstructions from drilling well. Performed risk assessments. Performed standard wireline operations, standard daily checks and full maintenance of wireline units. Rigged up wireline equipment in a safe and efficient manner. Repaired and maintained all pressure control equipment, standalone. Performed standard daily checks and full maintenance of wireline units. Performed basic well head maintenance.
U.S. Air Force Reserves – Munitions Systems Craftsman
Assembled, maintained, stored, issued and delivered assembled munitions. Established and evaluated performance standards, maintenance controls and work procedures of other Airmen.