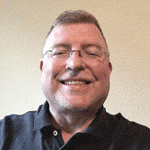 Barry Chilton
Pressure Testing & Compliance Specialist
Offshore Technical Compliance, Covington, LA
Responsible for field based installation, commissioning, operation of BSEE approved Greenlight Digital Pressure Testing software and related equipment.   Responsible for training rig personnel on utilization of Greenlight and related programs including the "Blueprint" test planning and analysis tool and the "Leaflet" documentation tool.  Current on API Standard 53 and related CFR to ensure BOP testing meets new well control rule requirements.
Drilling Technology BOP Assurance Consultant – Athens Group
Performed subsea and surface BOP inspections and verification of between well maintenance activities for domestic and international major oil companies.  Provided guidance on associated regulations, equipment and personnel readiness.
Software and Control Systems Integrity Consultant – ABS Consulting 
Performed commissioning and acceptance verification of Drilling Control Systems, Vessel Management, and Power Management Systems.
Controls Technician – National Oilwell Varco
Participated in commissioning, technical support and service of NOV drilling equipment, including top drives, iron roughnecks, PRS, crown mounted compensators, riser tensioners and subsea BOP's.